Raw space             JPY 429,000 [incl.tax]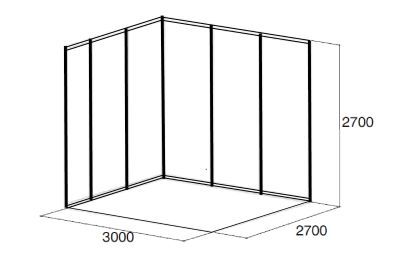 In case of corner booth, additional  cost of JPY 33,000 [incl.tax] will be required per 1 corner.
Company name board and parapet are not included.

Exhibitors are required to furnish carpet and lighting.
Example of Participation Fee
Raw Space JPY 429,000 + Standard Package Decoration JPY 77,000
=JPY 506,000 [incl.tax]
Package Decoration
Standard Package Decoration
8.1sqm

JPY 77,000 [incl.tax]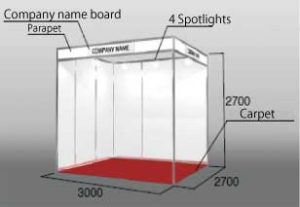 Carpet
4 LED spotlights(15w)
Parapet
Company name board
Electrical outlet
Electrical supply up to 1kw
electricity fee
For upgraded decoration, feel free to contact us.
Rental Equipment(example)
DISPLAY

COUNTER

RECEPTION

COUNTER

COUNTER

CHAIR

495×495×900

900×450×930

400Φ

SH550~740

JPY 7,700

JPY 7,150

JPY 4,180
Rental Equipment
Parapet    JPY 16,500 [incl.tax]
Company name board  JPY 11,000 [incl.tax]
*Additional  cost of JPY 5,500 [incl.tax] to use a company logo.
Cancellations & Amendments
Cancellation and amendment penalties will be charged for changes made on a confirmed booking. 
Cancellations and Amendments Fee

Before 31/9/2022

Participation fee×50%
After 1/10/2022
Participation fee×100%